Alternate Method' with Esher and guest DJ Jangala was originally aired on Sunday the 4th of October 2020, listen by Clicking the Mixcloud GIF under the tracklist. Scientific Sound Asia is the Expat and local English language underground radio station for Vietnam, Thailand, India, Sri Lanka, The Philippines and the rest of Asia.
Esher (first hour), hials from the northern reaches of Melbourne, Australia. Esher has a rich history in music production and DJing, ranging from trance, techno to dubstep to DnB. He has been influenced by the likes of Mad Zach, Ivy Lab, Noisia and Imanu and uses this influences in his own distinct sound.
With multiple years of experience producing and spinning on the decks Esher conveys a unique experience combining vast atmosphere, gritty basslines and complex drum patterns he is setting his sights on his first label release in the coming year. Esher hopes a weekly show will enable him to explore his beatmatching skills and open himself to the wider world once his first release are out.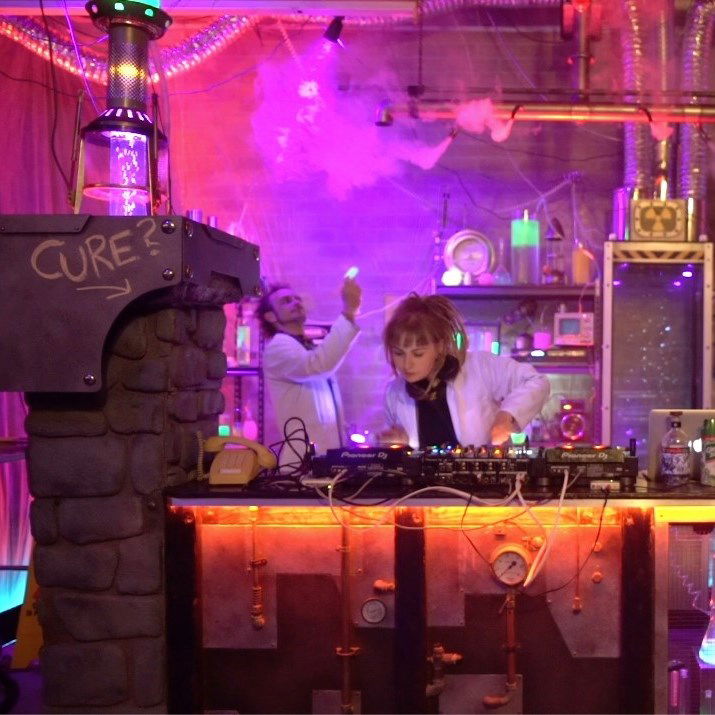 Guest DJ Jangala (second hour).
This weeks guest DJ is Jangala, Jangala who is also from Melbourne in Australia is a Fader flippin', finger slingin', steez queen. Jangala has been passionately involved in Melbourne's underground music scene for years and is actively expanding her love for bass music as a promoter and DJ throughout Melbourne.
Jangala prides herself on her heaving music collection and flow behind the decks, with every set being a creative and engaging journey through her unique taste in music. After years of stewin' n' brewin' her selection of tunes, Jangalas refined sound and charismatic delivery to share the music she loves.
She creates effortless connections with crowds all over, taking dance floors on a bass safari from deep rollers to dutty skankas and classic face melters. Being an integral part of Melbourne's Drum and Bass scene, Jangala has worked alongside many crews playing, organising and promoting Drum and Bass events across Melbourne, staying authentic to her style with hopes to pursue her passion for drum and bass music and push her sound further.
Alternative Method 01 4th October 2020.
Esher: (first hour).
Esher - Promo 1
Klinical, Fre4knc - The Shaman
Xtrah - Dispossessed
Esher - Promo 2
Mefjus - Sinkhole - (Skeptical Remix)
Kasra, Enei - Overthinking (Feat Drs)
Cesco - Angry Waves
Esher - Promo 3
Koherent - Morph
Qzb - Break Neck Speed
Sustance - Temperance
Buunshin - Trauma
Esher - Promo 4
Misanthrop - Turbine
Esher - Promo 5
Bredren - Flick Knife
Skylark - Morpheus
Wingz - Resistance
Synergy And Buunshin - Blue Veil
Signal - Move Me
Victim - Orion
Invadhertz - Paperbag
Amoss - Before It's Too Late
Jangala: (second hour).
Telomic - Inferior (Manikin Remix)
Charli Brix, Phaction - Say No More (Visages Remix)
Foreign Concept, Halogenix - Waiheke Wine Club
Operate - Pitch Black
Draize Ft. Slippy Skills - Infrastructure (Abstract Vision Remix)
Geostatic - Trust
Vromm, Rider Shafique - Level Up
Temam, Vici - Afterdark
Enei, Kasra - Inside The Box
Phentix, Qzb - Gang Signs
Sl8r - Hammer Head
Dlr & Break - City Slickers (Skeptical Remix)
Dillinja - 30hz (L-side Remix)
Levela, Particle - Reap What You Sow Ft Jakes
Dj Saw - Signal
Survey, Tephra, Arkoz - Pattern
Serum Kasra - Blaze Heart
Jolliffe - Critters
Dbr & Displaces Paranormals - Power Roll
Filthy Habits, Jeopardize - Freak
Rider Shafique, Sam Bings - Highly Blessed (Alix Perez Remix)
Klinical - Africa
Revaux - Solidify
Ac13 - Sensation
Rockwell - Vent
Mc Bassman - Heavy & Dark (Bou & Simula's Mix)
Enei - Widowed
Irah, Abstrakt Sonance - Busy With The Gang (Ft. Greazus, Nate)
Listen on Mixcloud here.