"After Hours" 446 host Hypnotised has announced its guest DJ and playlists for their show on Monday the 21st of December 2020 10 PM to 12 AM Indochina Time (ICT) and repeating Friday 10 AM to 12 PM (ICT) on Scientific Sound Asia the English language radio station for India, Japan, Thailand, China, Malaysia and Asia.
This weeks host is Hypnotised (first hour), Hypnotised, originally from Ghent (Belgium), the city where he experienced the exciting start of legendary parties like "I love techno" and "10 days of techno". Back then he was playing a mixture of styles in the biggest party area in Ghent. These days he will "hypnotise" you with deep prog and tech sounds. Together with his partner in crime PatriZe he is hosting his popular radio show "After Hours" on three radio stations worldwide: TM Radio (USA), Cosmos Radio (Germany) and Scientific Sound Asia (Vietnam).
Next to this weekly show they also host a monthly show "AH Digital Essentials" on Proton Radio (USA). Hypnotised also hosts his monthly show "Energetic" on Progressive.Beats Radio (Germany). Being well appreciated for his intriguing sets he's also been invited as a guest on several other radio stations all over the world such as Ibiza Global Radio, Frisky Radio, DI FM, Golden Wings Music Radio, Insomnia Fm, Groove City Radio, Fnoob Techno Radio, Urgent FM, Ibiza Soul-Radio and many more.
He shared the decks with top artists like Marco Bailey, Tom Hades, Purple Disco Machine, Jesse Rose, Nick Bril and others at festivals, events or clubs like Amsterdam Dance Event (ADE), Deep on Deck festival (South Africa), Club NL (Amsterdam), Decadance (Ghent), W Lounge (Amsterdam), Citylife (Terneuzen), Niche Club (Ghent), Zanzibar (South Africa) to name a few.
In 2015 a new chapter arrived for Hypnotised managing his label "AH Digital" as well as the start of his producing career. His work pops up in the "Beatport top 100 releases" regularly and is getting support by lots of great artists in the scene. His first EP "People from the Otherworld" immediately topped the charts at no. 4 and the title track was later remixed by No. 1 selling artist Rui Da Silva.
More recently Hypnotised's EP "Infinity" smashed the Beatport releases charts being on No. 2 in both the progressive house and trance charts and on No. 3 in the techno charts. In 2016 he also started producing under his alter ego "Man on the Moon" where he launched himself off to a fantastic start with his debut "Sense" being signed on the renowned Bonzai label, winning one of Metapop's remix contests and getting support and airplay on Belgium's best radio station "Studio Brussel".
Next to his own label AH Digital he worked for labels like Bonzai Progressive, Green Martian, SLC-6 Music, Pro-B-Tech Music, Stellar Fountain, Vesta Records, Insomniafm, Abstract Space Records, Eternal Beats, Beat Block Records, Absurd State, Aeriform Records, Morninglory Music, Mystic Carousel Records, Crop Circle, Disposition Recordings, Hot Cue Music, Estribo Records, IN2U Records, Tech Deluxe and new work can be expected soon on SLC-6 Music, Tantalum Records and AH Digital. Get Hypnotised!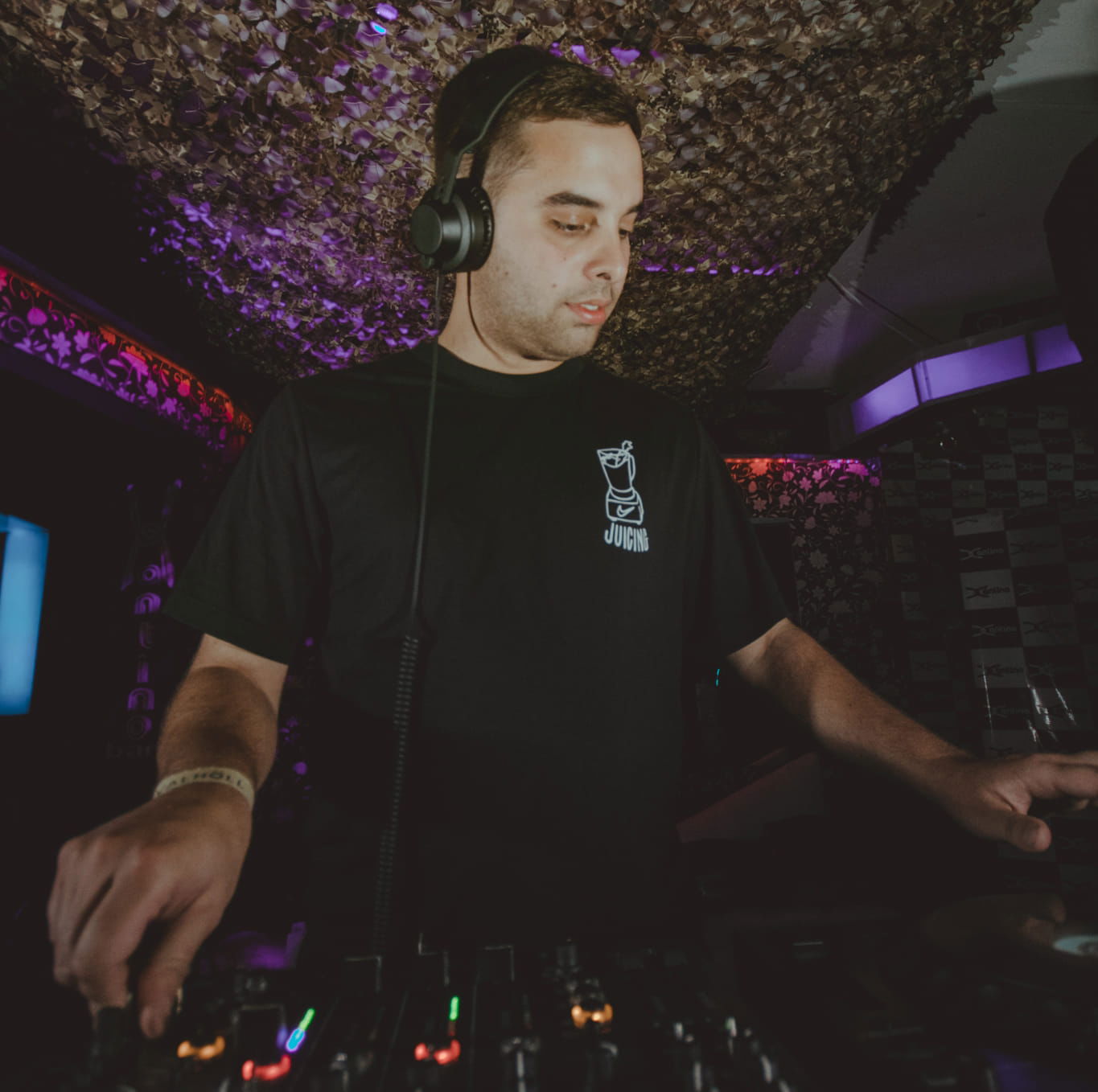 Guest DJ DJ Lannutti (second hour).
This Weeks guest DJ (second hour) is
J Lannutti
, J Lannutti real name Juan Pablo Lannutti was born in 1993 in Buenos Aires, Argentina. From a very young age he sensed that music transmitted a passionate feeling onto his soul, his first introduction to music was with the guitar honing his first art by playing and listening to music by artists such as Pink Floyd, The Beatles, and The Rolling Stones, just to name a few.
Fast forward a few years and at his first event he attended as a raver in Buenos Aires his heart leant towards electronic music, this led him to investigate this new passion and learn more about each genre, finally finding his place in the Progressive House scene. His main influences at the time were artists such as Nick Warren, Khen, Guy Mantzur, Hernan Cattaneo, Edu Imbernon, D-Nox, and Jimmy Van M.
He started to practice at home on his CDJs and after a short while started playing for friends at parties, as he did this his notoriety grew and it was not long before he started to play at bigger parties and events around the Argentinian Capital such as Freak Me Out, PPR Buenos Aires, Deep Motion, and attending more events at nightclubs like Club Bahrein, Un Jefe, Yuppies, La Piramide, etc.
Whilst spinning the decks
at these events he had the opportunity to share the DJ booth with great home grown and International artists, such as Lonya, Mariano Mellino, Marcelo Vasami, Jimmy Van M, Graziano Raffa, Marc Poppcke, Facundo Mohrr, Sound Process, Soundexile, Kevin Toro, Juan Zolbaran, Nicolas Ruiz, and many others. Shortly after his beginnings as a disc jockey at big events he decided to turn towards production, and started his first course at Cold Bs Studio, where he was able to create his first tracks.
Not content with his mastery of production he decided to further his education with Argentinian artist Juan Deminicis, so to refine his production abilities and gain a more competitive edge with his releases. Soon after his further education with Juan he started to up his game with
releases on such labels as
Hot Cue Music, Estribo Records, Balkan Connection South America, Mystic Carousel Records, Robot Groove Music and many more, enjoy the show!
After Hours 446 Tracklist 21st of December 2020.
Hypnotised: (first hour).
Nico Cerban - Altered Senses (Luciano Scheffer Remix)
D.J. MacIntyre - The Great Simoon (Francisco Castro & Derk Remix)
Tomic - Non Conformance (Enertia-Sound Remix)
Nicholas Van Orton - Phantom
Leo Perez, Dhany G - Citrino (Hot TuneiK Remix)
Freya Ridings - Unconditional (Bautista Toniolo Remix)
GMJ - Oranai
Juan Ibanez & Dylan Deck - Touching The Sky
J Lannutti: (second hour).
MKLY - Aries (Erdi Irmak Remix)
M.O.S. - Khimiya (Original Mix)
Nacho Varela Cruz Vittor - Jacaranda (Original Mix)
Juan Deminicis - Bhagwan (Original Mix)
Kamilo Sanclemente - Urania (Original Mix)
Monojoke - Havana (Guido Dirisio Remix)
Nopi - Parallel Words (Original Mix)
Volkan Erman, Priya Sen - Silver Rain (Juan Sapia Remix)
Interaxxis, Antrim - Isolation (Original Mix)
Listen here:

(If the player is not working click here)
Or PC Laptop, Mac users click here.

Follow us on Mixcloud here.