Gerard has published the playlist and guest DJ Hugh Def for his weekly show 'The Hit List' 53 this Tuesday the 24th of November 2020 at 10 PM to 12 AM Indochina Time (ICT) and repeating Saturday 10 AM to 12 PM (ICT), the English language radio station for China, India, Malaysia, Vietnam, Korea and the rest of Asia.
Gerard (second hour) is a Deep House, Deep Tech, Tech House and Techno producer and DJ from Angeles city in the United States with a deep passion for electronic music and has an proven method of creating it. He is a promising global talent who wants to be a key player in the future of House, broadening its culture and multiplying its catch with his style of play and production.
Gerard has recently returned to Florida, U.S.A after a period in South East Asia and works with our DJ agency Scientific Sound Asia. He is also Nu Disco manager for Brasbeat, Latin America's first and only digital source for electronic music and hosts a regular podcast/mix show featuring his charted music for each month.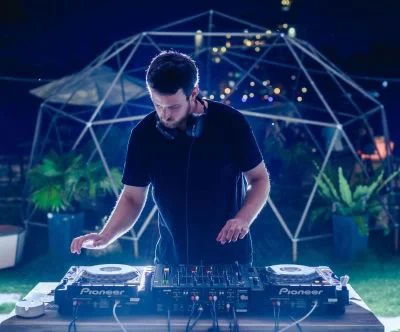 Guest DJ (first Hour) Hugh Def.
Hugh Def (first hour) [Vision Collective Recordings, Mood24] hails from the city of Cork, Ireland. He is one half of Jazz House duo Motiva and also releases quirky House music under his own name.
Hugh has played at festivals and club nights around Ireland & SE Asia over the past few years and has earned a rep for selecting funky, groovy and unique cuts from a wide spectrum of dance sub-genres. He was resident DJ at T&R Saigon, spinning House & Disco before his move to Hanoi where he was performing regularly at venues around the city before relocating back to Ireland.
Hugh has quite a worthy back catalogue of releases including his latest Deep House tracks 'The Gambler' is a smoothly produced atmospheric deep and jazzy track with a solid groove. 'Passing By' is a more mellow and laid back affair with subtle sounds and tones to soundtrack those late night sessions, the play list for his show this Monday is listed below and represents his style of play.
The Hit List episode 53 24th of November 2020.
Hugh Def: (first hour).
The Persuader - Skargard
Arapu - Lowris Fro
Vlad Arapasu - Mistic Pisc
Mariin - Lit Mitdream
Alsi - Right There
Mihai Pol - Synkop
Bodeler - Philypop
Conrad - Counrad Don't Know Why
Le Louche - Crosswind
Macarie - Non-color
Faster - Back Room
Leo Arnold - What To Say
Jacob, Bodin - Action
Ada Kaleh - Aum Trai Si Aum Vedel
Imbue Ft. Rojid - Everybody
Vinyl Speed Adjust - We Do Not Belong
Exquisite Corpse - Inner Rhythm ( Higher World Mix)
Ohm Hourani - Bursting Lights (Sublee Remix)
Ode - A9e4ff-b
Vice Versa - Space (Giuliano Lomonte Remix)
Alexi Delano - Water Colors (Persuader Remix)
Unknown Artist - Track001a
Gerard: (second hour).
Arkady Antsyrev - Chto Eto (Original Mix)
Bacatme - Shake It Girl (Original Mix)
Final Wish (Ire) - Let Me Know
Josh Kalker, Vltra & Francis De Simone - Automatic
Gerard - Jungle Warfare (Dirtyclean Rework)
Gerard - Testament (Original)
Deviceratt & Laidback Prince - Back Next Month (Original Mix)
Listen here:

(If the player is not working click here)
Or PC Laptop, Mac users click here.

Follow us on Mixcloud here.