El Brujo has published the track-lists for his show 'El Brujo and the Wild Bunch' 07 this Thursday the 13th of August 2020 10 PM to 12AM Indochina Time (ICT) and repeating Mondays 10 AM to 12PM (ICT). Scientific Sound Asia is the Expatriate and local underground radio station for India, China, Sri Lanka, Cambodia, Phillipines and the rest of Asia.
El Brujo (first hour) real name Robert Milanesi was born in Italy in 1964, from a very early age he became addicted to music and in 1994 became known as one of the founding fathers of the underground rave scene in Bologna, Italy. His first official release in 2008 was 'Warriors' on the Milan Label Open Legs.
His Label, Jambalay Records, was launched at their opening party in 2010 in Ibiza, Spain at Club Geminis in the Ibiza harbor. The label & El Brujo than burst onto the worldwide scene with the legendary Maya Jane Coles first charting in her February Chart 2011; his track, 'Mozambique' in collaboration with Big Mojo, which was his first physical CD release 'Nutty Fellas Are Go'.
In January 2019, his release, 'Plastic Dreams' original released on Frame Works was ranked in the Number #33 in the Beatport Hard Techno Top 100. EL Brujo. Has released on labels such as Elektrax, Frame Workxx, LW Recordings, Subwoofer, Berlin After Dark, Music Is The Drug, Gobekli Tepe, Fortwin Rec, Bunker, Mad Rhythm, SE7ENS, Physical Techno, Professional Rockstars, Serapis, Dublin Xpress, SMR Underground, Hypnotic Skull, Underground Media, Konfused Konfliction, Backbeat, Electrified Mindz, Killer Crossover, Oxytech, Profunda Intellectus, Tanira, Society Music, Toxic, MTZ Noir, NACHT, Ahromatiq, Technological, Plusquam, Ushuaia Music and many others.
His Unique sound is one of the unknown as the cosmos is a part of El Brujo and his creation is interstellar in his "Raw" approach whatever the music genre he conceives in music innovation, every month El Brujo will be giving us a guest DJ from his 'Wild Bunch' of Techno producers and Artists. In his next show El Brujo enlights us with a selection of his tracks.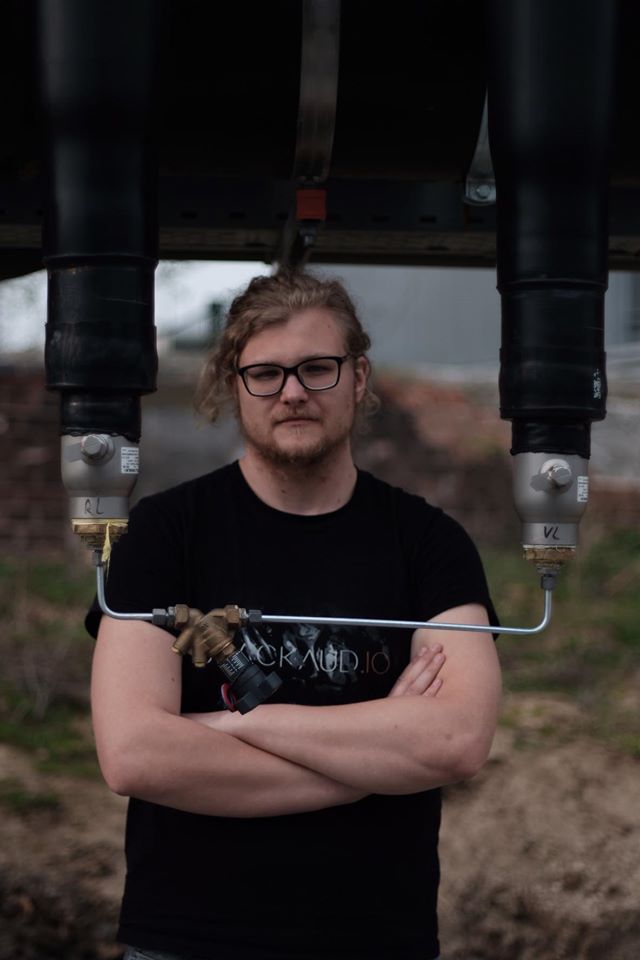 Guest DJ (second hour) Mudd Zed.
This Weeks guest DJ is Mudd Zed (second hour), Mudd.Zed is a 25 year old DJ and techno producer from Göttingen, Germany. By the age of eight he started playing the guitar and exploring his love for music. He was into almost every genre from Reggae to Hip Hop to Hardcore Punk, but for a long time he had an aversion to electronic music.
Then, at the age of 21 he discovered clubbing and a whole new universe opened up to him. Inspired by artists like Ben Klock, Marcel Dettmann, Steric, Shifted, and overs he got into dark atmospheric Techno and started djing by 22 and producing by 23.
In 2018 he made his debut on Beatport with 'Vinyllover Recordings' and 'Blackaud Recordings' and made an important debut with his sounds being recognised Internationally. As his friend and roommate Kreissystem took care of the label Blackaud Recordings, he started supporting him by organizing parties and digital releases.
In 2019 He got in touch with Labels like Pure Dope Digital, Technological Records, Torchmood Records, Deadgroovymusic and many more, welcome onboard with your show!
'El Brujo and The Wild Bunch' 13th August 2020.
El Brujo: (first hour).
El Brujo - He's A Dope Dealer [Promo Grey Shadow Rec]
El Brujo - The Dealer [Promo Grey Shadow Rec]
El Brujo - 2121 Parallel Dimensions (Cristian Remix) [Promo Frame Workx]
El Brujo - 2121 Parallel Dimensions (Makaja Gonzales Remix) [Promo Frame Workx]
El Brujo - And There Were None- [Promo Red Channel]
El Brujo - And There Were None-(DJ D ReDD Remix) [Promo Red Channel]
Tawa Girl - Blackout-Parallel thoughts
A-Gain - Viendo la Luz(Tawa Girl Remix) [Rattle rec]
Tawa Girl - Au Lever Du Soleil [Oscillator Music]
Makaja Gonzales - Red Sky In The Morning
Makaja Gonzales - Space Walker
Teknotik & El Brujo - Doppler Fx [Oxytech]
Teknotik & El Brujo - I Control The Night [Oxytech]
El Brujo - Blue Chilled Kurassow Part 1 [CBJ]
Mudd Zedd Playlist: (second hour).
Keah - Entre Historias y Cuentos
Hemka - Mushroom Kingdom
End Train - Infinite Universe
Tim Tama - Ebb and Flow
KreisSystem - Unexpected Coexistence
Desroi - Disprocess
Hector Oaks - Please Proceed To The Nearest Exit
Mudd.Zed feat.Zephixx - We Died A Thousand Lives
Benjamin Damage - Ripple
Moerbeck - Tesla
Robert S - Exoplanets
Hemka - Unusual Situation
D.Dan - Take It Easy
Marina Aleksandra - Equality Error
Randomer - Fear
Sugar - Krankengymnastik
Listen here:

(If the player is not working click here)
Or PC Laptop, Mac users click here.

Follow us on Mixcloud here.